The BLURB!
Under the streets of London there's a place most people could never even dream of. A city of monsters and saints, murderers and angels, knights in armour and pale girls in black velvet. This is the city of the people who have fallen between the cracks.

Richard Mayhew, a young businessman, is going to find out more than enough about this other London. A single act of kindness catapults him out of his workday existence and into a world that is at once eerily familiar and utterly bizarre. And a strange destiny awaits him down here, beneath his native city: neverwhere.
(From Goodreads)
The REVIEW!
WARNING:  Fangirling bias review about to commence.  Leave this blog if you don't want to read a rambling mess of a review by a book from a favorite author.  Because that's what you're going to get.
Oh look, I've read another Neil Gaiman book, and I absolutely loved it.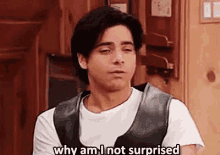 Honestly, since I started reading Neil Gaiman in my adult years, I've fallen in love with his writing style, his characters, his world building.  Really, just everything when it comes to his books – I end up loving.  Neverwhere is no different.
The blurb gives the basics of the plot, and I don't want to spoil anything.  I feel like going into this without knowing too much is what you want to do.  I was really happy going into this story blind.
What Richard goes through is more than any human should have to.  It's literally an adventure of a lifetime.  Yes, he was whiny on this journey.  And yes, maybe he's not the typical hero.  But, at the end of the day, he was thrown into something so extraordinary, and he still managed to exceed my expectations.
While Richard was definitely the main protagonist of the story, there were so many more.  I really enjoyed meeting most of the characters – from Door to the marquis de Carabas to the rat-speakers and the big bads.  Richard's character and personality played so well of the other characters that were introduced, that the development of the story felt very natural and unforced as the characters grew and progressed through this incredible journey.
I loved hating the characters I was supposed to hate.  Loving the ones I was supposed to love.  And being sucker-punched by a few of the characters along the way.
Overall, I just absolutely loved everything about Neverwhere, and I could not put the book down.
I think it's easy to fall so deeply into Neil Gaiman's stories, because he's an absolute master of the craft.  He brings his stories to life, and I highly recommend picking up Neverwhere or one of his many other novels to read soon.
Soon, as in now.
The RATING!