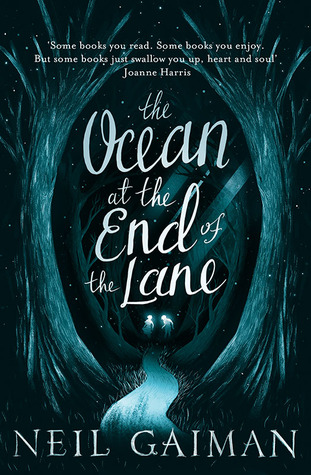 The BLURB!
Dive into a magical novel of memory and the adventure of childhood, from one of the brightest, most brilliant writers of our generation.

It began for our narrator forty years ago when the family lodger stole their car and committed suicide in it, stirring up ancient powers best left undisturbed. Dark creatures from beyond the world are on the loose, and it will take everything our narrator has just to stay alive. There is primal horror here, and menace unleashed – within his family and from the forces that have gathered to destroy it.

His only defense is three women, on a farm at the end of the lane. The youngest of them claims that her duckpond is an ocean. The oldest can remember the Big Bang.
(From Goodreads)
The REVIEW!
This is my first re-read of 2016. It was just as fantastical and frightening as I remembered it, but I found myself enjoying it more this time around.
I saw more of myself in the narrator this time. From his fears of the dark matching my own as a child, to what he went through not even remotely matching my own childhood. But, I had an over-active imagination, and I know that I saw and dreamed up monsters in the shadows and the dark, and maybe it wasn't my imagination but memories.
OK, it was definitely just my imagination, but how terrifying would it be to discover that it was really a memory long forgotten?
Neil Gaiman did an excellent job of giving his seven year old narrator a seven year old's voice. It felt very genuine and really helped keep me completely engaged in the story.
Honestly, I felt that Mr. Gaiman did everything right with this novel. The length felt perfect for this story – I didn't think it dragged or it ended too quickly. The plot and the characters were just spot on, and I was in our narrator's corner 100% of the time. I despised the monsters in this book and hoped that they would meet their demise. And I especially loved the Hempstock women. They were strong, brave, wonderfully magical, brilliant, caring, extraordinary beings.
This is one of those novels that I know I'll continue to re-read in years to come, and one that I would honestly recommend to everyone to try. It's one of my favorite Gaiman works, and I know I haven't read them all yet, but I think it'll stay one of my favorites of his.
This review is becoming a rambling mess, so I'm ending it soon.  But I really, really think you check out The Ocean at the End of the Lane. Seriously, if you haven't yet, try and get to this book in 2016. It's under 300 pages, and I really don't think you'll be disappointed.
The RATING!
(was there any doubt?)