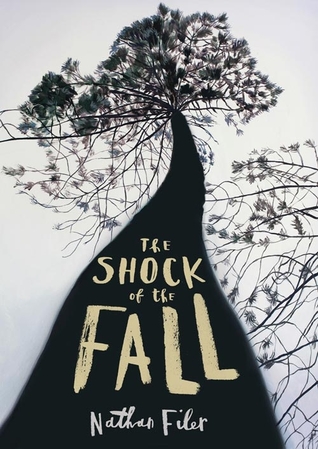 The BLURB!
I'll tell you what happened because it will be a good way to introduce my brother. His name's Simon. I think you're going to like him. I really do. But in a couple of pages he'll be dead. And he was never the same after that.
(from Goodreads)
The REVIEW!
For a debut novel, The Shock of the Fall was freaking awesome.  Hell, for a however many numbered novel, this book was pretty spectacular.
This book follows Matthew and adult mental illness and very real family connections.  It shows how mental illness can affect everyone's lives and how the person with the illness sees themselves, their family, and life/society.  It was raw and bitter and beautiful to read.
Filer did just a fantastic job at giving Matthew an original and very genuine voice.  I may not have liked him some of the times (partly because he's a bit of an asshole), but I connected with Matthew pretty early on.  His struggles with himself, his family, and his illness were heart wrenching to witness.
The Shock of the Fall is told entirely in Matthew's point of view, and it is written/told in a diary-type format (without the weird dated headers – which I really liked not seeing).  Filer did something pretty neat by changing up the text from normal, traditional font to typewritten.  It means something in the story and being able to see the changes really helped elevate this story to a whole new level for me.
What kept this novel from being 5 stars was the slow/disjointed beginning.  It took me a while to get used to the writing and because I couldn't grasp the changes quick enough, my reading of this book for about the first 50 pages or so was just as disjointed and slow as reading the novel felt to me.
Overall, I really enjoyed this book.  There was a bit of hype around The Shock of the Fall and sometimes the hype isn't deserved.  For this novel though, it really was.
The RATING!