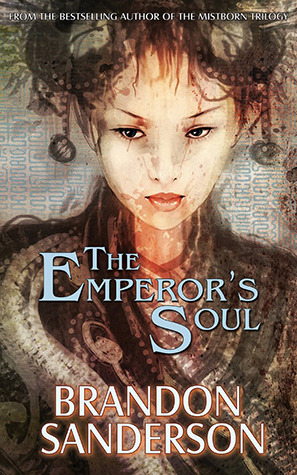 The BLURB!
A heretic thief is the empire's only hope in this fascinating tale that inhabits the same world as the popular novel, Elantris.

Shai is a Forger, a foreigner who can flawlessly copy and re-create any item by rewriting its history with skillful magic. Condemned to death after trying to steal the emperor's scepter, she is given one opportunity to save herself. Though her skill as a Forger is considered an abomination by her captors, Shai will attempt to create a new soul for the emperor, who is almost dead.

Probing deeply into his life, she discovers Emperor Ashravan's truest nature—and the opportunity to exploit it. Her only possible ally is one who is truly loyal to the emperor, but councilor Gaotona must overcome his prejudices to understand that Shai's forgery is as much artistry as it is deception.

Brimming with magic and political intrigue, this deftly woven fantasy delves into the essence of a living spirit.
The REVIEW!
With less than 200 pages, The Emperor's Soul was able to tell a complete, fully developed and highly interesting story.  Brandon Sanderson is clearly a freaking master of fantastic fantasy, and while I'm pretty new to his writing, I've been extremely impressed by his stories so far.
Shai is the main character, and as the blurb says, she's a Forger.  Forger's in this society aren't regarded very highly, but when the Empire needs her,  Shai is given the incredible task of saving the Emperor by using her skills, all the while being looked down on and used.  She was such a strong, well written heroine, and again, I have to say how impressed I am by Sanderson's ability to create such an excellent character in so few pages.
The plot and story were excellently written, and I was completely invested in the story from pretty much page one, and I stayed interested until the end of the book.  The pacing felt perfect to me.  There was enough informative background that I wasn't confused as to what Shai was doing for the Empire, and there was enough dialogue and/or action that kept me focused fully on Shai and her situation.  Let's face it, I sometimes have Reader ADD, and if I get bored, I scan.  I didn't scan any sentence.  Heck, I sometimes re-read wonderfully written sentences, because I liked them so much.
This is such a fangirling review, but it really was a great story.  I highly recommend it.  I'm not sure if you need to read another of Sanderson's novels first, as The Emperor's Soul is set in the same world as his novel Elantris, but I haven't read that novel yet, and I wasn't confused or put off by this one.
I think this could be a great teaser story to get people into fantasy, and I'd suggest giving it a read.
The RATING!