Created/Hosted by Lainey
It's been a while since I've done a #T5W.  The past topics have been excellent, but I just haven't taken the time to write blogs for any of them.  Luckily, with BEDA, I'm getting into the habit of blogging again, and that means, I'll hopefully start doing Top 5 Wednesdays.
This week's topic is books that I wanted to start yesterday.  There are so many books that I want to read that have been out for a while, or that I haven't heard of, and now that I have, I really want to read them, or [insert "another reason" here].  These books aren't in any particular order, except for the very first one.
1. A Darker Shade of Magic by V.E. Schwab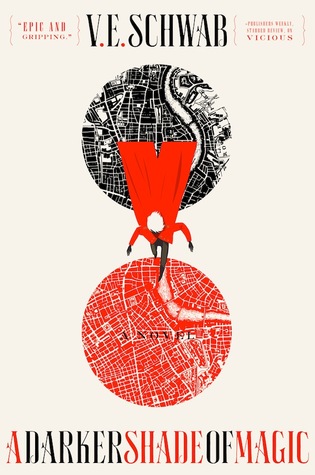 I'm relatively new to V.E. Schwab's novels, but since discovering her last year, I've absolutely been fangirling over her work.  The reason this is my Number 1, is because I wanted to read it the first day it released, and I haven't yet.  Everything about this book, from the cover to the summary to all the extremely positive reviews have really got me pumped for this novel…but I still haven't read it.  I even own the e-book, so there's really no excuses to give.
I'm definitely hoping to read this very, very soon.
You know what?  This is going on my TBR for May.
2.  Influx by Daniel Suarez
I started reading this, and then I put it down, and I haven't went back to it.  I don't know why, because I did enjoy what I read.  It felt like there was a little more sciency jargon right at the beginning, and maybe that put me off just a tad, but not enough to not read this novel.
This is the only book by Daniel Suarez that I haven't read, and I really want to correct that ASAP.  I love techno-thrillers, and his work is fast becoming some of my favorites in the genre.
3 & 4.  Days of Blood & Starlight and Dreams of Gods & Monsters by Laini Taylor
I loved Daughter of Smoke & Bone, and again, I don't know why I haven't read these two books yet.  I loved the world, character's and Laini Taylor's writing, and I'm hoping to read these for sure this year.
5.  Stephen King
This is just a blanket statement regarding the author in general.  I've read Under the Dome, but other than that, I really haven't read any Stephen King.  I want to.  It's just when I try one his novels, it ends up terrifying me really early on, and I end up putting it down…never to go back to it again.
I really want to read The Shining, It, and The Stand.  However, my last attempt at It was terrible, and I quit reading the book because I'm a big scaredy cat.
If you know of another one of his novels that I should start with instead, please let me know!
Honorable Mentions:   Neil Gaiman's The Ocean at the End of the Lane, American Gods, and Sandman
I think I've fangirled enough about Neil Gaiman on this blog (this week alone…), but honestly since discovering his work, I just really want to read it all.  NOW!  I currently have the first volume of The Absolute Sandman out from the library, but I haven't started it, and I'm pretty disappointed in myself.
Dang, this list is longer than 5 books…oh well, I stand by it!